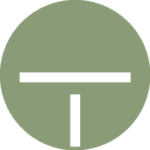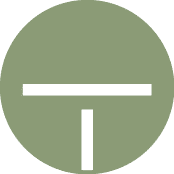 The restaurant
Monday: 5pm-24pm (in season or on request)
Tuesday to Sunday: 5 p.m. to 12 a.m.
Sunday: 11 a.m.-2 p.m.
(open on request at noon on weekdays and Saturdays)
Located on the ground floor of the two houses, opening onto a cosi garden and planted with fruit trees, bordered by the chef's vegetable garden, it offers refined cuisine, homemade and seasonal, from fresh products intelligently and artistically staged by our young team.
Our team is here to welcome you and delight you at the restaurant of the Grande Maison.
Reservations and information at 027 565 35 70 or by email restaurant@lagrandemaison.ch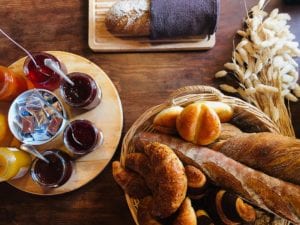 BRUNCH
Next dates: December 17, 2023 and January 21, 2024
From 11:00 am, enjoy our BRUNCH buffet in the restaurant of the Grande Maison. For a Sunday while relaxing and convivial in the garden or in the vaulted room.
On reservation at 027 565 35 70
Price CHF 44.-/pers. – Half-price child from 5 to 12 years old)
(Supplement of CHF 28.-/ for our room guests)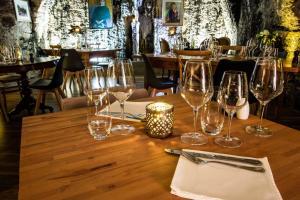 Entries
Baked marrow bones, sea urchin meat and fleur de sel CHF 19.-
French onion soup au gratin with Gruyère cheese CHF 20.-
Gravelax salmon, green salad and toast CHF 24.-
Roast beef (low temperature), saladine and hot roast sauce CHF 26.-
Pasta and risotto
Pizzoccheri, spinach, potato, alpine cheese and flavoured homemade butter CHF 28.-
Risotto with broccoli cream, taleggio and roasted hazelnuts CHF 30.-
Risotto with saffron, veal ossobuco and gremolada CHF 38.-
Meat
Pork knuckle in beer, creamy polenta CHF 28.-
Duck breast, mashed potato, baby vegetables and orange sauce CHF 38.-
Beef cheek confit with red wine and polenta taragna CHF 38.-
Beef fillet with morel mushroom sauce and baked new potatoes CHF 55.-
Suggestions of the moment
Whole lamb shoulder and side dishes – For 2 people CHF 98.-
Fresh homemade pasta of the moment CHF …..-
Barley soup (Saviésanne speciality) CHF 16.-
Desserts
Tiramisu CHF 12.-
Panna cotta salted butter caramel CHF 13.-
Chocolate cake and scoop of vanilla ice cream CHF 15.-
Orange soufflé CHF 16.-
Group meal
Do not hesitate to contact us for your group meal requests (company, family, friends, etc.), we will answer you as soon as possible with a tailor-made proposal.
Here are some suggestions to give you some ideas.
Proposal 1 – CHF 60.-/pers.
Pizzoccheri (buckwheat flour dough), potato, spinach, and alpine cheese
or
Onion soup au gratin with Gruyère cheese
**
Beer Pork Shank (Slow Cooked) with Creamy Polenta
***
Salted Caramel Panna Cotta
Proposal 2 – CHF 75 P.P
Low-temperature beef like roast beef, green salad and brown stock sauce
**
Risotto with broccoli, taleggio cream and roasted hazelnuts
***
Duck breast with orange sauce, mashed potatoes and baby vegetables
****
Chocolate cake with raspberry ice cream
Child proposal – CHF 30.-
Charcuterie platter
**
Risotto with saffron and sausage meat
***
Raspberry or caramel panna cotta