ROMANTIC and CHARMING BOUTIQUE HOTEL, RESTAURANT and THEATRE IN CHANDOLIN, SAVISE, VALAIS, SWITZERLAND
Welcome to La Grande Maison
Since 2007, it's with a great pleasure that we accommodate our guests, from everywhere around the world, in our historic building. Originally, the house had seven rooms, to which 5 new have been added in the adjoining "chalet".
The restaurant, run by a young and dynamic team, offers both refined and original dishes, which delight the local population as well as our guests.
In the same place are offered, once a month, comedy shows performed by young talents spotted by us here or at the Avignon festival.
We would be happy to welcome you, in all simplicity, in our establishment for a night, a meal, a show or why not the three? See you soon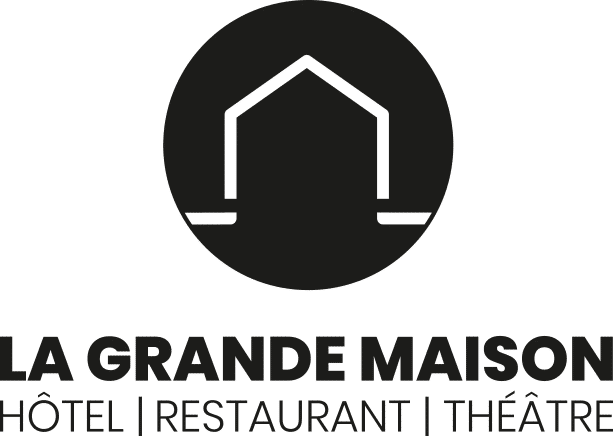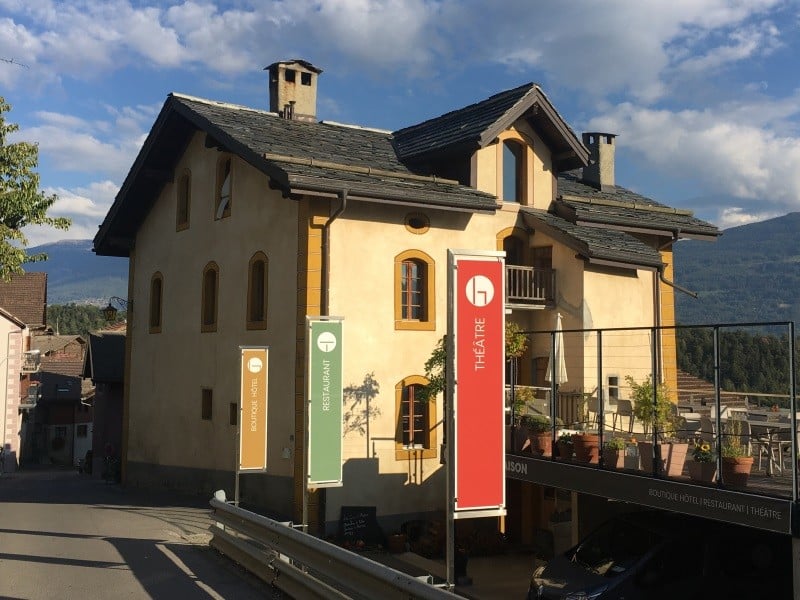 BOUTIQUE HOTEL
Who are we? We are Pascal and Alain and we renovated Pascal's family home in 2007 (built in 1808-1810). We added a restaurant in 2011 and started hosting dinner shows in 2011 as well. In 2018, we are expanding with 5 additional rooms in the "chalet" section and we are working on a showroom project in a barn. It's not the ideas that we lack …
How do we define ourselves? Not really a hotel because you're like home! Not really B and B, Bed and Breakfast or guest rooms as still 12 rooms for a capacity of 27 beds! Finally a Boutique Hotel because we claim our style and personality.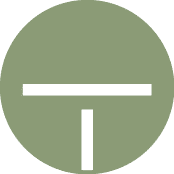 EXHIBITION
"Andalusia, time regained"
To discover currently at the bar and restaurant of the Grande Maison, the works of Marisol DIZ, Lausanne (CH).
BRUNCH
Every Sunday 🙂
From 11:00 am, enjoy our BRUNCH buffet in the restaurant of the Grande Maison. For a Sunday while relaxing and convivial in the garden or in the vaulted room.
On reservation at 027 565 35 70
Price CHF 44.-/pers. – Half-price child from 5 to 12 years old)
(Supplement of CHF 28.-/ for our room guests)
OFF SEASON – EXCEPTIONAL
Marc Tourneboeuf with his new show "L'IMPATIENT"
Faced with the pitfalls of constant distraction, social networks, his fears, he works like a relentless but would like things to go faster. And what does "success" finally arrive!
"Success is to go from failure to failure without losing enthusiasm" said Churchill and so far, Marc succeeds all his failures with great enthusiasm! Castings, filming, love…
Between prose and alexandrines, without ever losing his optimism, L'Impatient takes you into the life of a young actor passionate about Paris to Avignon, from France to Asia, via Australia…
Did you know?
Marc Tourneboeuf received the Cyrano for best author 2022 and the Avignon OFF 2022 prize for best hope (and God knows it takes!).
Author: Marc Tourneboeuf
Artist : Marc Tourneboeuf
Director: Grétel Delattre
ABOBO
La Grande Maison joins the ABOBO family for the 2023-2024 season
The Abobo is intended for adults over 26 years old; it is complementary to the cultural GA (under 26 years old). A new offer, it is available for pre-sale at the preferential rate of CHF 365.- during the month of June of each year. Its price is then scalable.
The Abobo is nominative, non-transferable and valid for 365 days from September 1st to August 31st of each year in the partner places. This project was made possible thanks to the support of the Department of Culture of the State of Valais.
SEASON 2023-2024
Discover the first 3 shows of the season and book your seats already.
We will be in Avignon for you to find the nuggets of 2024.
FOLLOW US ON FACEBOOK AND INSTAGRAM TO FIND OUT ALL ABOUT OUR PROJECTS
DOWNLOAD OUR APPLICATION AND STAY CONNECTED!